Sudeep Rauniar
Managing Director, TEDx Durbar Marg
Even though he is in his final year of MBBS at Lala Lajpat Rai Memorial Medical College in Meerut, Sudeep Rauniar still finds the time and passion to pursue his other interests. He is the Managing Director of TEDx Durbar Marg, the largest TED chapter in Nepal and one of the fastest growing in South Asia. Rauniar is also the State Director of the Global Association of Indian Medical Students for the state of Uttar Pradesh in India. The association, he shares, falls under the Medical Council of India and is registered at the Ministry of Corporate Affairs, India and he is responsible for states in western India. He is also a Foundation Member of the American College of Physicians and Royal College of Physicians in Edinburgh and has been recognised for his work during the Covid pandemic by Stanford University, John Hopkins University and Boston University. Rauniar was in Kathmandu recently where Business 360 met him to learn about the TED Talks and the activities of TEDx Durbar Marg.
Could you please tell us about TEDx?
What we have to fundamentally understand is that TED Conferences LLC is the parent body and TEDx is an independently working chapter under licence of TED Conferences. TED distributes its licences to various chapters across the world and the letter 'x' is affixed to those independent chapters. When we talk about TED Talks, it is those talk programmes organised under the banner of the parent organisation and the TEDx Talks are the ones held by individual chapters. TED is totally different from Toastmasters or Storytellers which have also become common these days. Storytellers basically entails sharing your personal journey, it is more about personal inspiration. Meanwhile, Toastmasters focuses on developing an individual's communication skills. In fact, many people are not aware that Toastmasters has a separate module to prepare its members for TED. TED is not about sharing personal journeys or improving communication skills but about sharing ideas. It is about how we take one's credible ideas to the world.
What does 'taking ideas to the world' actually mean?
I would like to take the example of Sristi KC, the founder of Blind Rocks. When we identified her in 2019, she was an unknown personality though the work she was trying to do through her organisation was exemplary. Being visually impaired herself, she was trying to make people like her equally competitive in society, however, her concept was not being recognised. We approached her through TEDx Durbar Marg and gave her the platform to pitch her idea globally in 2019. Since then, her idea has taken off and I think I don't need to talk much about it now. Her talk has been one of the highest viewed from among all the talks that we have conducted. So, TED is about giving a platform to credible ideas for which individuals may not have had one.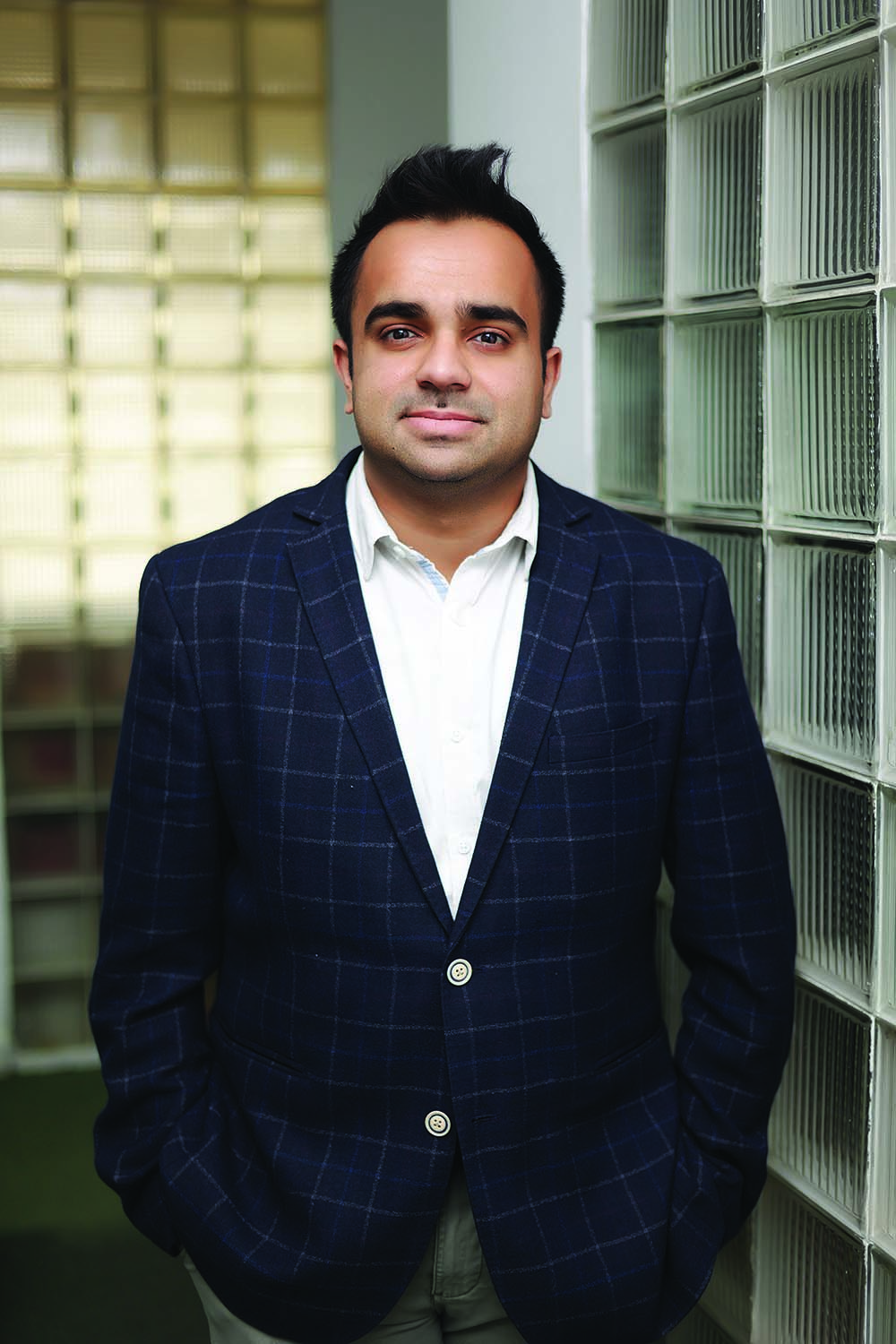 How has TED evolved over the years in Nepal?
I must be honest that though our chapter is the most prominent in Nepal, I am not the one who actually brought TED to the country. We had a local chapter back in 2011 but after just one event it was dead. Initially, the TED experience in Nepal was very shallow. It was in 2014 while watching a TED Talk of Shah Rukh Khan on Star Plus I got fascinated and decided to open a local chapter. Till then, I was not as interested in talk shows. I applied for the licence but got rejected on three occasions. TED didn't want to entertain us back then because we are a small country and maybe they thought we wouldn't make a significant difference. It was only in 2018, on my fourth attempt did I get a licence and we organised our first event with some prominent Nepali personalities on board. Our journey in the last four years has been remarkable and we have been able to create a lot of milestones. In the past four years we have conducted 40 events despite Covid. We held physical events and some were conducted on hybrid and semi-hybrid models. For example, we held TED Women and we were one of the largest partners of TED Countdown back in 2020 where TED had partnered with UNDP with an aim to reduce fuel emissions. We also have something called Stead Women and then the TED Head that is designed to make education accessible in remote parts of the far-west and mid-west in Nepal.
"Our journey in the last four years has been remarkable and we have been able to create a lot of milestones. In the past four years we have conducted 40 events despite the covid."
Till date, we have had 101 speakers in our events which included prominent global personalities like Al Gore, former vice president of the United States, who spoke to us through the TED Countdown platform. Ursula von der Leyen, President of the European Commission, has also spoken through our platform. When such people speak at a Nepali platform it gives a hint as to how a Nepali chapter like TEDx Durbar Marg has evolved. I believe we have a huge potential and in the last three years the parent body has been focusing a lot on Nepal. In 2020, we held the regional conference virtually where 600 participants from 67 countries participated digitally which further helped Nepal to be recognised as a new emerging hub. Today, we have become a brand in the country and surprisingly a number of international partners are associated with us like Marriott International, Turkish Airlines, and Honda from Japan. I think we have achieved all that is to be achieved in Nepal and now the journey will be to take this brand to the world.
What makes TEDx Durbar Marg different from other chapters?
A number of local chapters have opened up in Nepal but like I mentioned earlier after an event or so, they got lost. TEDx Durbar Marg can take pride in our consistency and the quality of our talks. The speakers who have graced our platform speak for itself. We are governed by TED New York's policies and we do everything by adhering to its standards. We never compromise on the quality of our speakers. The process to select a speaker at TEDx Durbar Marg is very comprehensive. It is only after a number of screenings we allow a person to speak on our platform and even after being selected there is another extensive process. We ask the speakers to send the abstract of their speech initially and after reviewing that we again ask them to send a second abstract after 10 days. It is after at least three abstracts that we actually give the go-ahead to the concerned speaker. Even to acquire membership of TEDx Durbar Marg is an elaborate procedure. We do open occupancies from time to time but the applications are screened thoroughly and our management board conducts an interview before we select any individual. We have a core management team of 22 individuals.
"Our journey in the last four years has been remarkable and we have been able to create a lot of milestones. In the past four years we have conducted 40 events despite THE Covid."
What is the future of TED in Nepal?
I can't speak for other chapters but TEDx Durbar Marg is going ahead pretty strong. We have some big projects lined up. The first is we are bringing TEDx Talks to TV for the very first time in Nepal. It is a studio project and we have already tied up with Galaxy 4K for the purpose. Also, on May 21 this year we will be holding TED events physically after a hiatus of three years and the response we have been getting from people is amazing. This year we will have Varun Sridhar, CEO of Paytm Money, Asia's largest payment platform, and also Anukool Bhatnagar, Chief General Manager of SBI for the event. We are also in talks with Tom Hall, Vice President of Lonely Planet. It would be great to also have Hall because it will be a major boost to our domestic travel industry which is still reeling under the impact of the Covid pandemic. In fact, stakeholders from the tourism industry are pressuring us a lot to bring him to Nepal as it will provide the necessary exposure. Among domestic speakers we have already confirmed with Anuradha Koirala, among others. Besides that, we are also coordinating to hold a regional workshop of TED organisers physically for the first time in South Asia. We are targeting this for September or October. We want to bring in at least 400 TEDx organisers from across the globe to Kathmandu for the workshop. This event too has been looked at by the tourism industry as a major project for tourism revival. From our point of view this will help establish Nepal as the new TED hub in Asia. In 2020, we had an agreement with the Visit Nepal committee to organise a TEDx Talk in the Everest region but that didn't materialise due to the pandemic. However, we are planning to hold one such event next year.
You have leading a couple of organisations at a very young age. How would you define leadership?
The term leadership is very vague but I don't think it is about handling big teams, or managing multinationals or managing staff of 300 people. It is all about how you give back energy to your team. In some ways, experience does matter but this does not always come with age. In Nepal or in South Asia for that matter, the system is very traditional where you need an experience of 30 to 40 years before anyone actually believes you are a leader. This is very absurd. Yes, experience does play a role but it should not be the only defining factor. For example, I started from the higher management position in TEDx Durbar Marg, it was not about starting from ground level and moving up. I strongly believe a good leader makes the work enjoyable. One must always remember that a team is your strength, a good team to be precise. A good team defines the organisation and not the individual. There is something I would like to share with young people like me in Nepal. I have noticed that our youths tend to give up easily. Ninety per cent of the time, the situation may be against you but you have to hold on to the remaining 10%. This is one reason why even though many startups open in Nepal there are only a handful that have survived. Even I got rejected by TED three times but I did not let that demotivate me. If I had given up TEDx Durbar Marg would not be in existence right now. And the other message I would like to convey is you don't have to be stationed in the country to contribute. We can do it from any corner of the world. It is all about taking our country to the world.
READ ALSO: