During the review period of November 2 to November 26, the Nepal Stock Exchange Index went up by a whopping 252.29 points (+15.37%) to close at 1,893.24 points. The secondary market witnessed a new record after four years as the NEPSE index crossed 1,900 points during the first hour of the trading day on November 26. Ample liquidity in the banking system, lower return on bank savings, lack of other investment avenues, and high uptake of online trading services has pushed investors to invest in the secondary market, and thus the market has been witnessing a bull run lately. A total of 14,062,507 shares worth Rs 6.11 billion were traded in 56,341 transactions on November 19 alone, which marks a new record in the secondary market trading of securities based on transaction amount and number of transactions. The total market volume during the period went up 49.80% and stood at Rs 71.39 billion. During the review period, all of the sub-indices landed in the green zone. The Manufacturing and Processing sub-index (+45.48%) was the biggest gainer as share value of Bottlers Nepal (+Rs 3,490) and Himalayan Distillery (+Rs 1,698) went up. Others sub-index (+43.51%) was second in line with increase in the share value of Citizen Investment Trust (+Rs 1,005) and Nepal Telecom (+Rs 354). Non-life insurance sub-index (+20.14%) also followed suit with rise in the share value of Rastriya Beema Company (+Rs 4,500), Shikhar Insurance (+Rs 326) and Neco Insurance (+Rs 262).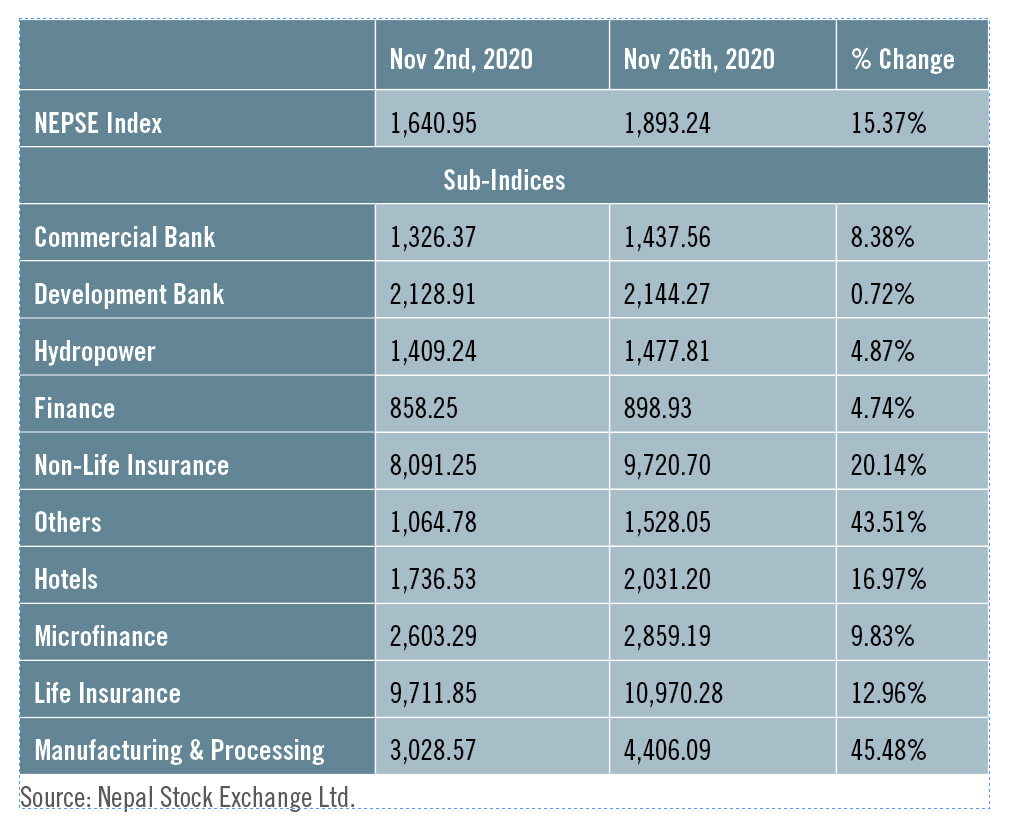 Likewise, Hotels sub-index (+16.97%) was also on the gaining side with increase in the share value of Oriental Hotels (+Rs 121) and Taragon Regency (+Rs 57). The Life Insurance sub-index (+12.96%) went up with rise in the share value of Nepal Life Insurance (+Rs 249), Life Insurance Company (+Rs 154) and National Life Insurance (+Rs 128). Also, Microfinance sub-index (+9.83%) increased with rise in the share value of Forward Community Microfinance (+Rs 396), National Microfinance (+Rs 262) and NMB Microfinance (+Rs 260). Commercial sub-index (+8.38%) also saw a jump as share value of Nabil Bank (+Rs 236), Prabhu Bank (+Rs 80) and Prime Commercial Bank (+Rs 56) increased. Likewise, Hydropower sub-index (+4.87%) also witnessed a surge as the share value of Rairang Hydropower (+Rs 52), Chilime Hydropower (+Rs 51) and Ngadi Group Power (+Rs 47) increased. Finance sub-index (+4.74%) also saw a rise as share value of Gurkhas Finance (+Rs 48), Multipurpose Finance (+Rs 32) and Janaki Finance (+Rs 31) gained value. Development Bank sub-index (+0.72%) witnessed least growth amongst the sub-indices with increase in share value of Excel Development (+Rs 37) and Muktinath Development (+Rs 24) increased.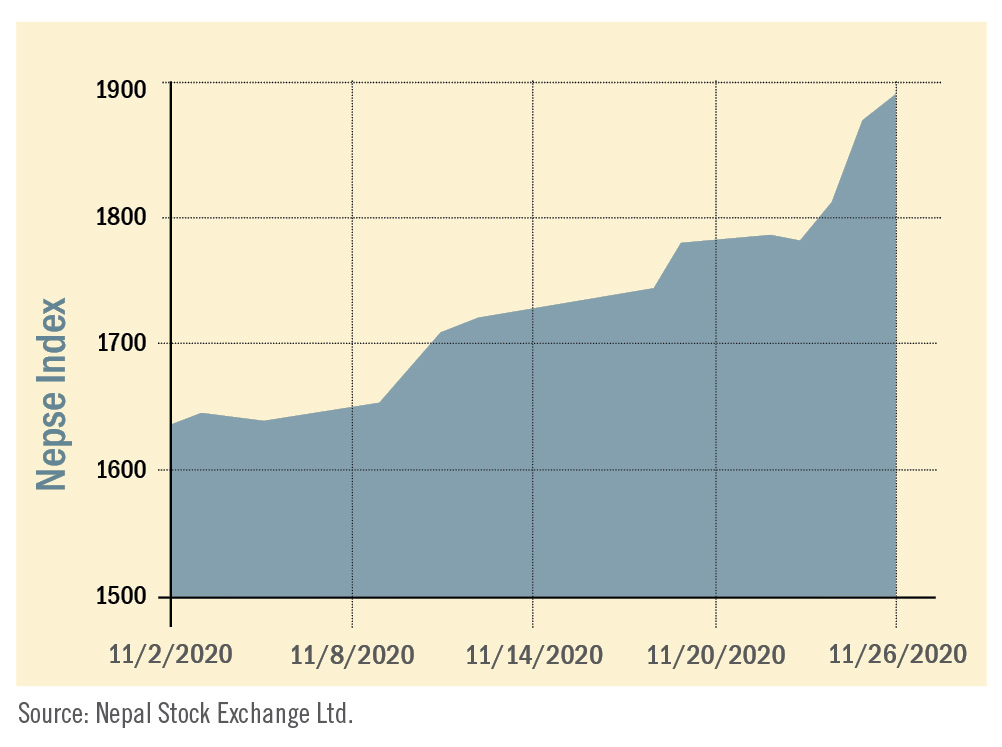 News and Highlights
On the public issue front, during the review period, Securities Exchange Board of Nepal (SEBON) has approved the issuance of Initial Public Offering (IPO) of Chandragiri Hills Limited worth Rs 184 million. Global IME Capital has been appointed as its issue manager. Similarly, it has added the IPO of Mahila Microfinance worth Rs 40 million to its pipeline. Nepal SBI Merchant is the issue manager for the microfinance. Likewise, SEBON has also approved issuance of first debt mutual fund called NIC Asia Dynamic Debt Mutual Fund worth Rs 500 million. This mutual fund will be issued in multiple phases, and in the first phase, NIC Asia Capital is allowed to issue only Rs 12.5 million. Further, another mutual fund scheme of NIC Asia Capital titled NIC Asia Select – 30 is under SEBON's pipeline.
Outlook
The market has crossed the highest point ever and has entered a new unchartered territory backed by strong volume and investor confidence. Along with low interest rates and limited areas of investments, the increased active participation of investors in the secondary market is the outcome of high uptake of automated online trading system. As per NEPSE, as of November 19, there are over 175,000 online registered investors, and on an average over 80% of the trading in the market is carried out online. The strong volume in the market indicates gradual upward movement nonetheless some corrections are likely as investors book short term profits. Investors are highly advised to invest based on fundamentals and refrain from making investments based on herd mentality.