During the review period of March 28 to April 27, the Nepal Stock Exchange (NEPSE) index declined by 18.35 points (-0.96%) to close at 1,892.00 points. The secondary market continued its downward momentum in this review period reaching its lowest point of the review period on April 9 at 1,839.49 points. The third quarter results of listed companies have failed to excite the general investors, while the growing fiscal deficit has further shaken investor confidence. During the review period, the overall total market volume plummeted by 6.81% to reach Rs 22.5 billion. During the review period, six of the sub-indices landed in the red zone and four in the green zone indicating a slight stabilisation of the market in certain sectors. In the red zone, Hydropower sub-index (-5.28%) was the biggest loser as the share value of Upper Tamakoshi Hydropower (-Rs 28.6), Himalayan Power Partner (-Rs 20.9), and Arun Kabeli Power (-Rs 20) saw the most significant decrease. Finance sub-index (-3.90%) was second in line as it witnessed a fall in the share prices of Best Finance Company (-Rs 23), Pokhara Finance (-Rs 18.3), and Shree Investment Finance (-Rs 17.3).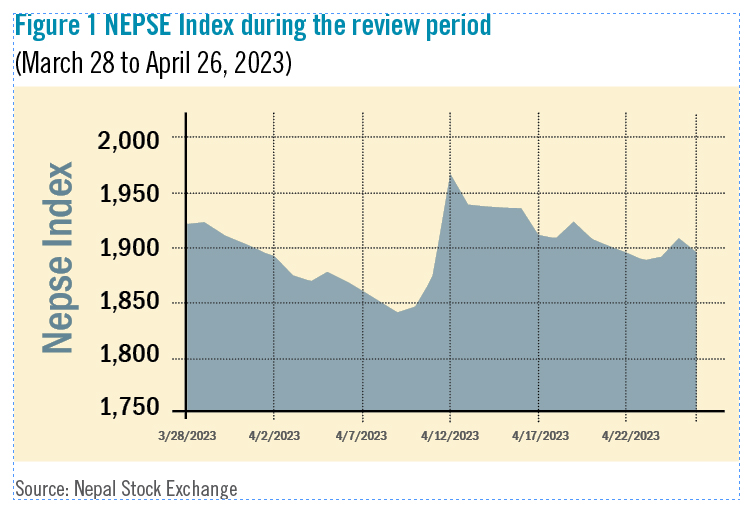 Others sub-index (-3.64%) followed suit with decrease in the share prices of Citizen Investment Trust (-Rs 23), Hydroelectricity Investment and Development Company (-Rs 6.9), and Nepal Doorsanchar Company (-Rs 3.1). The Development Bank sub-index (-2.46%) also fell as share value of Excel Development Bank (-Rs 26), Mahalaxmi Bikas Bank (-Rs 15), and Narayani Development Bank (-Rs 13.8) declined. Non-life Insurance sub-index (-1.98%) went down as share prices of Rastriya Beema Company (-Rs 322), Shikhar Insurance (-Rs 33), and Prabhu Insurance (-Rs 16.6) went down. Life Insurance sub-index (-3.11%) also dropped with fall in the share value of Asian Life Insurance (-Rs 56), Gurans Life Insurance (-Rs 54), and Prime Life Insurance (-Rs 45). The remaining sub-indices were in the green zone. Commercial Bank sub-index (+0.78%) witnessed increase in the share prices of Everest Bank (+Rs 35.1), NIC Asia Bank (+Rs 29) and Standard Chartered Bank (+Rs 20.2). Manufacturing and Processing sub-index (+1.06%) saw an increase in the share value of Unilever Nepal (+Rs 2,160) and Himalayan Distillery (+Rs 20). Further, Microfinance sub-index (+1.70%) saw an improvement with increase in share prices of Global IME Microfinance (+Rs 105.1), Swabalamban Microfinance (+Rs 47.9), and Chhimek Laghubitta Bikas Bank (+Rs 37.1). Hotels and Tourism sub-index (+12.79%) was the biggest winner with increase in the share value of Taragon Regency Hotel Ltd (+Rs 34.6), Soaltee Hotel Ltd (+Rs 31.6), and Oriental Hotels (+Rs 25). Table 1 Sub-indices during the review period March 28 to April 26, 2023)
 
March 28, 2023
April 26, 2023
% Change
NEPSE Index
1,910.35
1,892.00
-0.96%
Sub-Indices
Commercial Bank
1,224.06
1,233.58
0.78%
Development Bank
3,556.80
3,469.40
-2.46%
Hydropower
2,572.23
2,436.36
-5.28%
Finance
1,651.16
1,586.79
-3.90%
Non-Life Insurance
8,774.41
8,600.98
-1.98%
Others
1,462.19
1,409.02
-3.64%
Hotels and Tourism
3,114.19
3,512.62
12.79%
Microfinance
3,325.86
3,382.36
1.70%
Life Insurance
9,579.92
9,440.48
-1.456%
Manufacturing & Processing
4,362.88
4,408.93
1.06%
Source: Nepal Stock Exchange
News and Highlights
On the public issues front, SEBON has approved the Initial Public Offering (IPO) of Three Star Hydropower at Rs 492.5 million, Ghorahi Cement Industry at Rs 3.972 billion, and Nepal Republic Media at Rs 967.5 million. Himalayan Capital, Nabil Investment Banking, and Mega Capital Markets Ltd were appointed as the respective issue managers. SEBON also approved the rights shares of Himal Dolakha Hydropower Company at Rs 1.2 billion, and debenture of Lumbini Bikas Bank at Rs 1 billion. Laxmi Capital Market and Nabil Investment Banking are the respective issue managers. SEBON has also put Nabil Mutual Funds 'NI 31' worth Rs 150 million and Global IME Mutual Fund's 'Global IME Samunnat Yojana-II' worth Rs 1.2 billion under its Mutual Fund Scheme pipeline.
Outlook
The decline in interest rates has provided investors with some respite in the face of constrained liquidity and fiscal deficit. However, market turnover has not improved due to investor scepticism regarding the performance of listed companies, particularly financial institutions, as loan loss provision has increased in the most recent quarter. The market is likely to maintain its current momentum, with no clear pattern.
This is an analysis from beed Management Pvt Ltd. No expressed or implied warrant is made for usefulness or completeness of this information and no liability will be accepted for consequences of actions taken on the basis of this analysis.