KATHMANDU: Best Airlines Awards Nepal (BAAN) is set to organise a ceremony to announce 'Best Airlines Awards Nepal 2022', on December 13, 2022. The award ceremony is being held with the aim of making the aviation sector more consumer-oriented while appreciating its contribution to Nepal's tourism sector.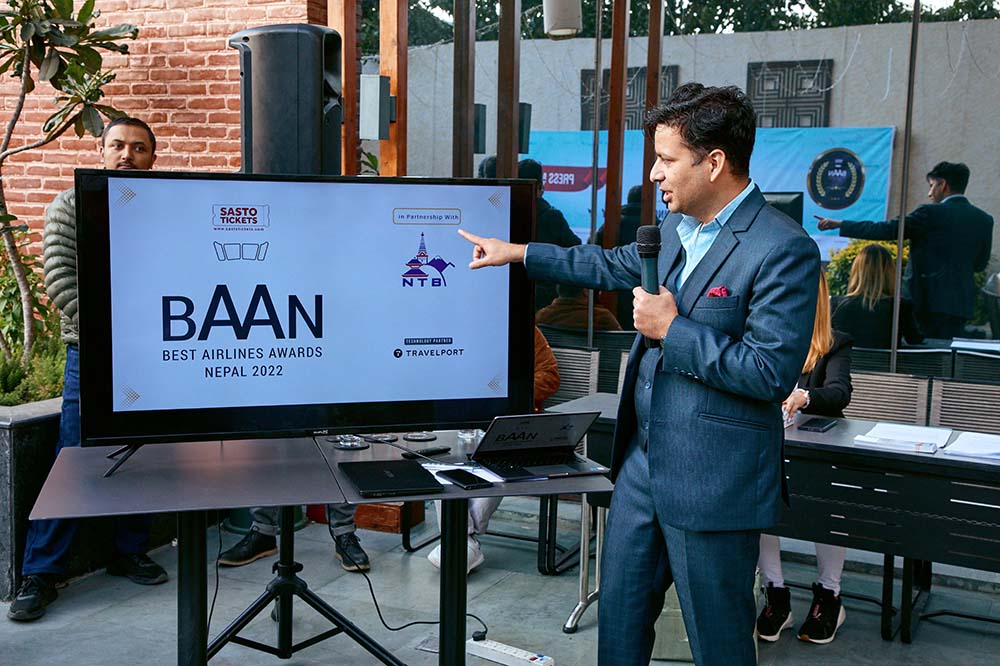 Best Airlines Awards will be given in 16 different categories in Nepal. Of the total categories, three categories are reserved for Nepali Airlines only, while airlines operating international flights from Nepal will compete for awards in 11 categories. In the remaining two categories, awards will be given to various partners that play important roles in making aviation safe and convenient. The selection of awardees will be determined based on the public opinion broadcast through various media and the decision of the jury. The jury panel includes Shekhar Golchha, President of the Federation of Nepalese Chambers of Commerce and Industry (FNCCI); Ambica Shrestha, President of Dwarika's Hotels and Resorts and Honorary Consulate General of Spain for Nepal; Shreejana Rana, President of Hotel Association Nepal (HAN); Pravin Bahadur Pandey, President of School Club of Kathmandu; CN Pandey, former President of Nepal Association of Tour and Travel Agents (NATTA); Bibhuti Chand Thakur, Chairman of PATA Nepal Chapter; Bed Upreti, Chief Executive Officer (CEO) of Aviation Museum; Mahesh Swar, CEO of Kantipur Media Group; Anil Keshary Shah, Chairperson of Lead Nepal Inc; Arun Chaudhary, Chairman and Managing Director of CG Holdings; and Upendra Mahato, Founding President of the Non-Resident Nepali Association. [gallery columns="1" size="full" link="file" ids="30689,30690"] A total of 27 airlines including nine domestic airlines that currently operate flights to various international destinations via Kathmandu will compete in the Best Airlines Awards Nepal. The award ceremony will be organised in partnership with the Nepal Tourism Board. To maintain the fairness and dignity of this award, the organiser has not taken any kind of financial support, nomination fee or sponsorship from the airlines and associated organisations.
---
Hyatt Palace Kathmandu as hospitality partner for Best Airlines Awards Nepal 
[gallery columns="1" link="file" size="full" ids="30687,30688,30685"] Best Airlines Awards Nepal has selected Hyatt Place Kathmandu as its hospitality partner keeping in mind the important role of hospitality in tourism. An MoU was signed between Hyatt Place Kathmandu and Best Airlines Awards Nepal as the hospitality partner of Best Airlines Awards Nepal 2022 amid a press meet held on Wednesday. Achint Rastogi, Head of Sales and Marketing at Hyatt Place Kathmandu, and Sagardev Lakhe, Chairman of Best Airlines Awards Nepal exchanged the Mou at Declaration and MoU signing ceremony. Hyatt Place Kathmandu, the second Hyatt-branded hotel in Nepal, was officially opened on November 15, 2021, expanding the Hyatt brand's footprint globally in markets that matter most to guests and World of Hyatt members. Hyatt Palace Kathmandu, on its first anniversary day, offered its customers 50% discount on food and drinks. The excellent interior of the hotel has succeeded in enthralling many while the delicious food it serves has also been the topic of discussion in various forums. As the official hospitality partner of the Best Airlines Awards Nepal, Director Rastogi said that Hyatt Place Kathmandu will do its best to make this event grand and successful.
READ ALSO: