Confederation of Nepalese Industries: Women's Leadership Forum held its first flagship program, the Women's Leadership Summit 23 on March 25 and 26 in the capital to address, deliberate and find solutions to three key areas of women's leadership in the aftermath of the Covid 19 pandemic. It was an opportunity for gender equality champions and women leaders to exchange ideas, share strategies, celebrate successes, be encouraged, and learn from each other in a two-day summit that was designed to challenge and inspire. Inaugurating the two-day international summit, Prime Minister Pushpa Kamal Dahal emphasised the importance of women's participation in every sector of society. He shared that the country is moving towards building an equitable society by prioritising women's participation in every activity of the society including political leadership. He said, "An equitable society can be built only with the participation of women in every sector including education, health, environment and social service. Equal representation of women is necessary at the policymaking level by involving them in political leadership." PM Dahal said the constitution has guaranteed a certain percentage of women's participation in different bodies of the government, and an adequate amount of budget and resources have been allocated for the empowerment of women. He stressed that the Constitution has made it mandatory that there should be 33% participation of women in Parliament, adding that the representation of women at local levels is now more than 41% in the country, highlighting that the political participation of women is more when compared to other countries. He stated, "It is unquestionable that women's participation in politics and policy drives change. It is my government's commitment to ensure that we do our best to ensure greater female representation in key positions across the country". The Prime Minister also presented the title of the CNI WLF Inspiring Woman of the Year 2023 to Sonika Manandhar of Aloi and Maggie Doyne of Kopila Valley or their contribution in their respective fields. At the inaugural function, Member of Parliament and Industrialist, Dr Binod Chaudhary spoke about how empowered women have worked across the spectrum for greater change in their fields and in nation building. Chaudhary expressed his belief that businesses run under women's leadership are often more organised and systematic. CNI President Vishnu Kumar Agarwal said, "Equality demands that men and women have equal rights and opportunities, in politics, business and social contexts. In every sphere, women's voices, rights and contributions are vital to build the sustainable economies and resilient societies. We need the government, businesses and all of society to act and create enabling environments for women to reach the top. Our actions must include clear, consistent policies that are enforced and implemented with well defined targets that aim at overcoming the disparities in female leadership in politics and in the corporate world". Arnaud Cauchois, Asian Development Bank's Country Director for Nepal, lauded that Nepal has achieved a significant result in terms of women empowerment and equality. He stated that the ADB has emphasised gender equality in its programmes and projects, and articulated his readiness for further collaboration for this cause. Chhaya Sharma, Chairperson of the Women's Leadership Forum stated that women must continue to push for spaces that amplify the voices of women and other genders. She expressed that the two-day international summit would serve as a platform to exchange ideas among the women leaders and to formulate common strategies, share success stories and motivate fellow women entrepreneurs among others. Also speaking at the summit were notable guests Suresh Prabhu, former Minister of Railways, Government of India; Member of Parliment and former Minister, Gagan Thapa; Venerable Mingyur Rinpoche. The two-day summit had several panel discussions revolving around business, women's empowerment, and politics alongside key note speeches by Zeina Jallad, a ground-breaking Palestinian lawyer and human-rights scholar and Ernesta Redi, an entrepreneur, Virologist and woman empowerment advocate. A fireside dialogue was also held between the brainchild of the Women Leadership Summit and Vice President of CNI, Nirvana Chaudhary and Jaivir Singh of the PwC Foundation. A marketplace was also organised over the two days with entrepreneurs showcasing and selling Make In Nepal products, yet another initiative of CNI titled Swdeshi campaign. The closing ceremony of the Summit saw a declaration being presented to the representative of the National Planning Commission, GoN and to related organisations that vied for ways forward towards an Equal 2030. The Women's Leadership Summit 2023 was supported by ADB, the World Bank, US-AID, Heifer, WWF, NTB, UK Aid and several private organisations including Bottlers Nepal, Daraz, Nabil Bank, RMC, MAW, etc. Business 360 was the media partner and the Editor, Charu Chadha designed and executed the Summit. [gallery columns="6" ids="35755,35756,35757,35758,35759,35760,35761,35762,35763,35764,35766,35765"]
BUSINESS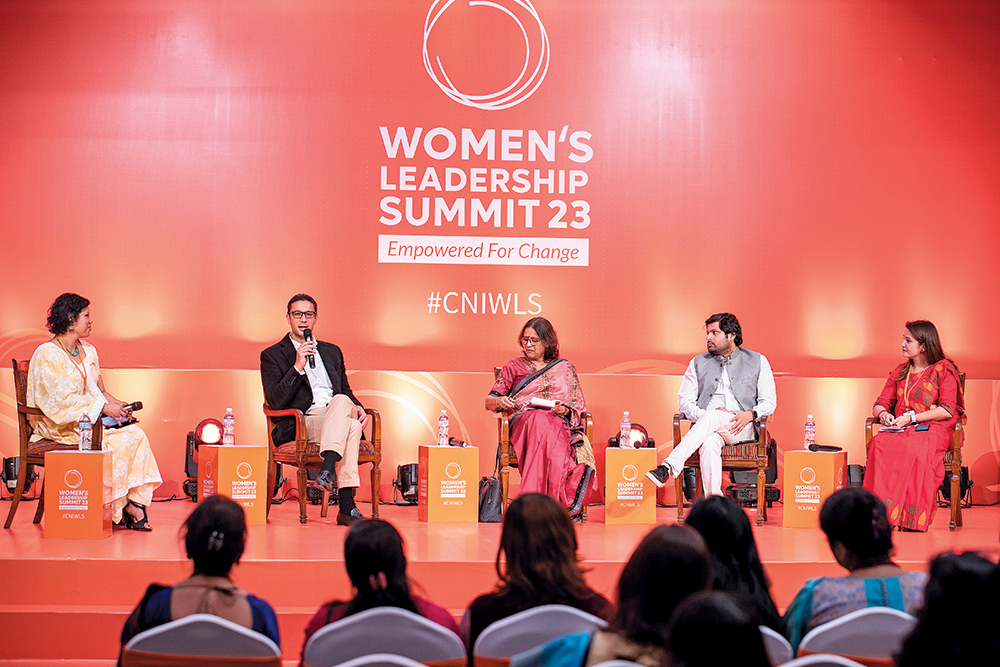 Moderator:
Santona Malakar Ameya Prabhu, Founder and Managing Director of NAFA Capital Advisors; Archana Bhatnagar, Managing Director of Haylide Chemicals and President of Madhya Pradesh Association of Women Entrepreneurs India; Dr Prativa Pandey, Founder and CEO of Herveda Botanicals and Catalyst Technology; and Ajit Bikram Shah, Director and CEO of Lotus Holdings.
POLITICS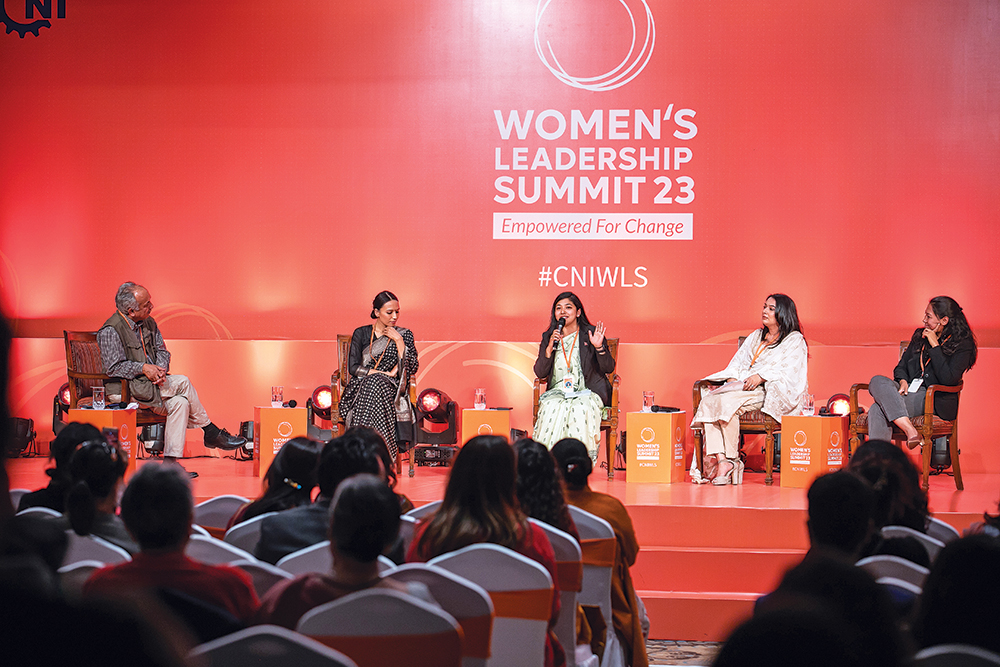 Moderator:
Yubaraj Ghimire
Panellists:
Sunita Dangol, Deputy Mayor of Kathmandu Metropolitan City; Sumana Shrestha, Member of Parliament; Khusbu Oli, politician and entrepreneur; and Dr Bina Basnet, Doctor and Co-founder of Hamro Sikkim Party.
EMPOWERMENT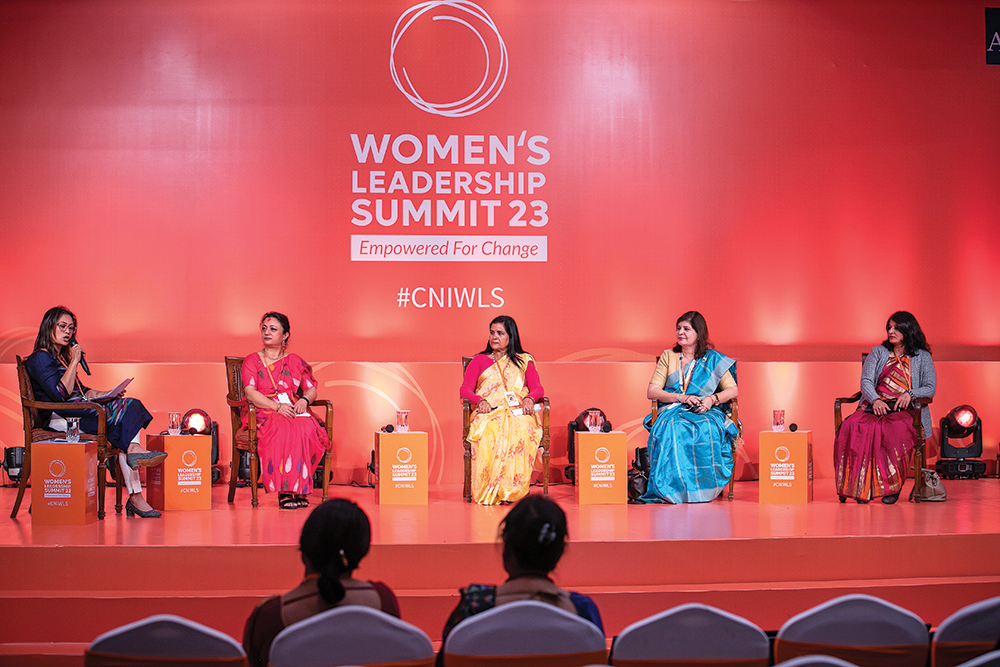 Moderator:
Sajana Amatya Arpana Pradhan Bhandary, FWEAN (Province 3); Mina Kumari Phulara, FWEAN (Province 7); Saraswati Sharma, FWEAN (Province 5); and Girija Chittlangia Sharda, CNI Board Member (Province 1). CNI Vice President Nirvana Chaudhary moderated a fireside dialogue with Jaivir Singh, Vice Chairman of PwC India Foundation.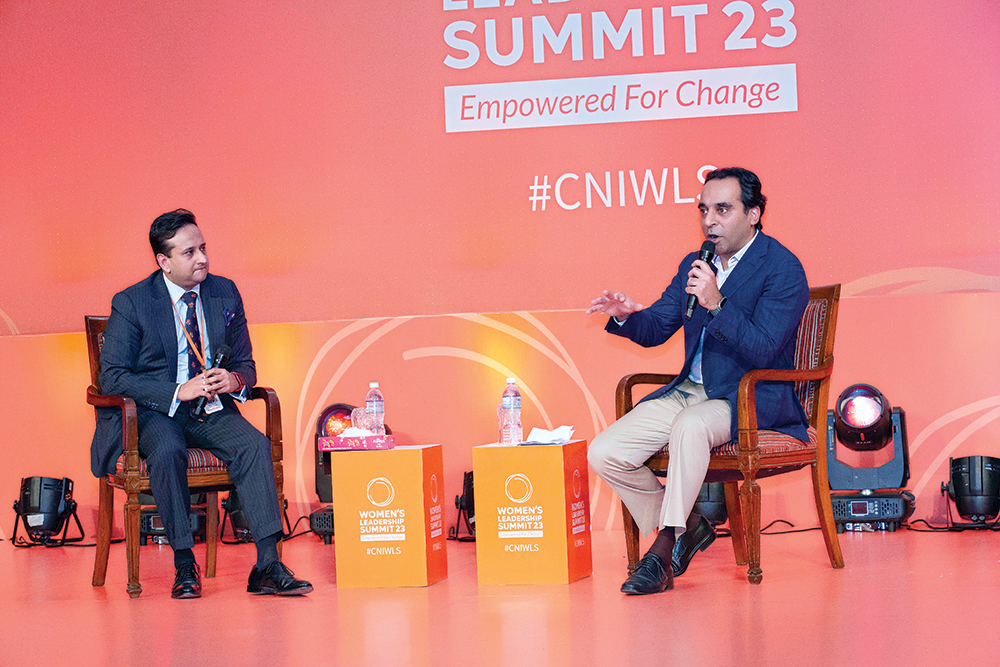 CNI Women Leadership Forum Members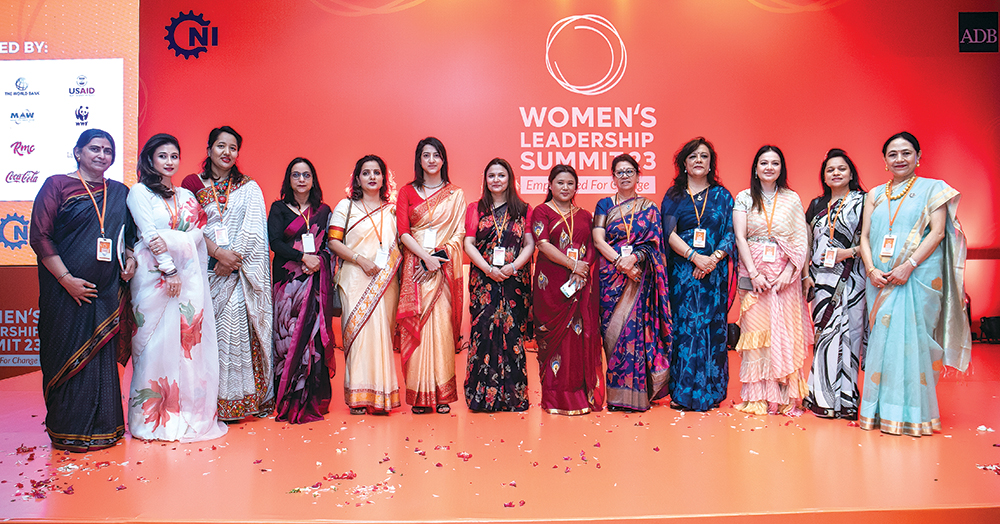 CLIMATE CHANGE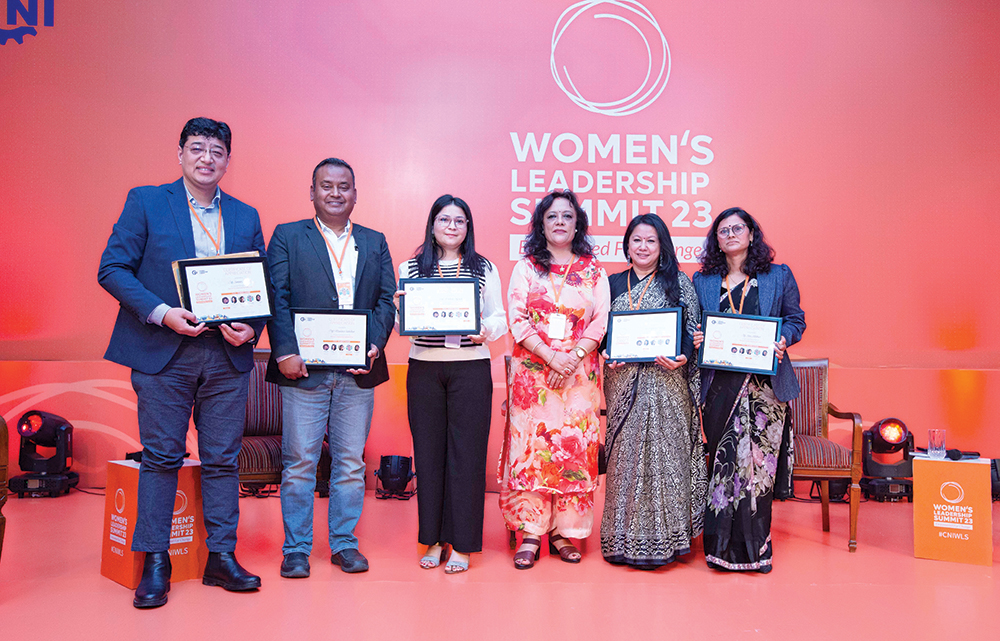 Moderator:
Suman Shakya
Panellists:
Sanjeevani Yonjan, Director of Wildlife Conservation Nepal; Sita Adhikari, Co Founder and Director of Impact; Bhushan Tuladhar, is the Chief of Party for USAID Clean Air led by FHI 360.; and Prakriti Mainali, Founder, Shakti Milan Samaj.
DIGITAL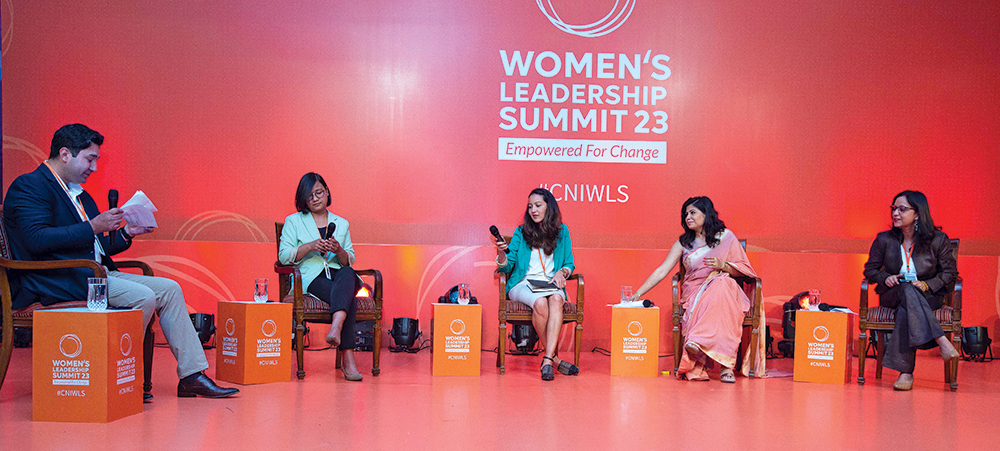 Moderator:
Amun Thapa.
Panellists:
Sonika Manadhar, Founder of Aloi Pvt.Ltd; Karvika Thapa, CEO of Kimbu Tech; Rumee Singh, Co-founder of Rumsan Group and Dr. Amrita Sharma, CNI WLF Member.
CHANGE AGENTS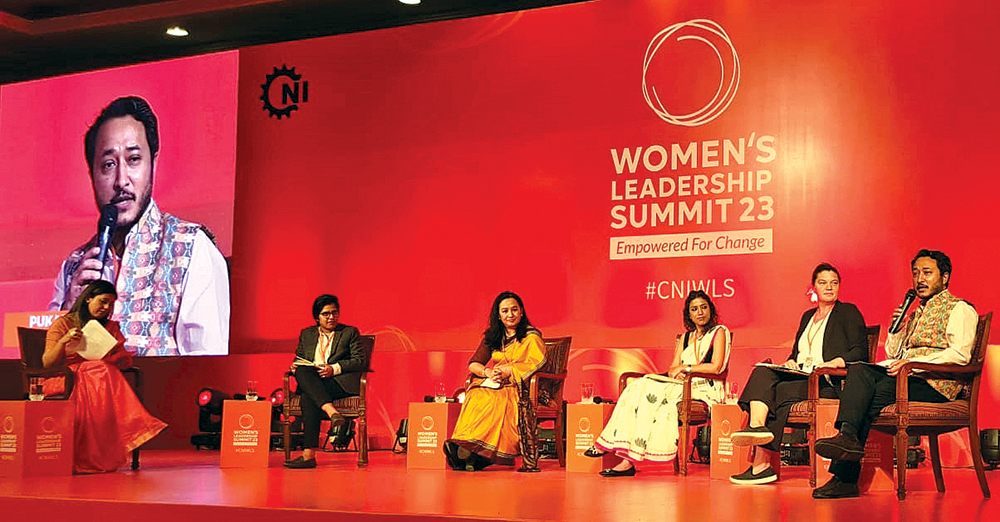 Moderator:
Amuda Mishra
Panellists:
Anupama Anand, Programme Officer at BFGF; Neena Joshi, Senior Director for Asia Programmes – Cooperative Development Heifer International; Pukar Malla, Founder of Daayitwa; Maggie Doyne, Founder of BlinkNow Foundation; and Shailee Chaudhary, Campaigner of Dalit Lives Matter.
MEDIA & ENTERTAINMENT
Moderator:
Akriti Ghimire
Panellits:
Dil Bhusan Pathak, Chief Editor of Kantipur Television; Anushka Shrestha, Miss Nepal 2019 and Founder of Makkuse Nepal; Rekha Thapa, Actor and Producer; and Priya Sigdel, Founder of Hattihatti and Miss Nepal Earth.
EXPORT MARKET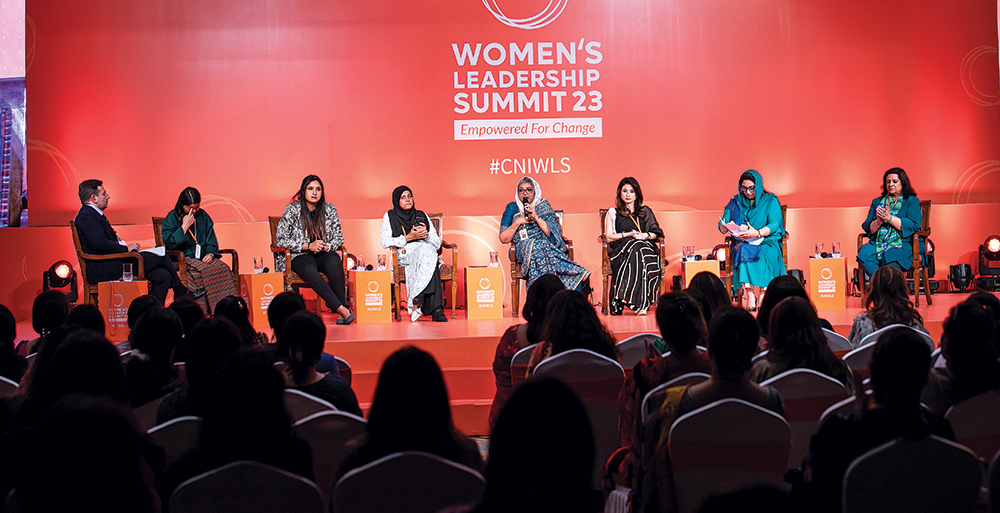 Moderator:
Francesco Tornieri, ADB
Panellists:
Entrepreneurs: Aasia Saail Khan and Shamama Arbab, Pakistan; Namgay Wangmo, Bhutan; Sukirti Patnaik, India; Abida Ali, Bangladesh; Vidushi Rana, Nepal; and Nahza Ibrahim, Maldives.
POLICY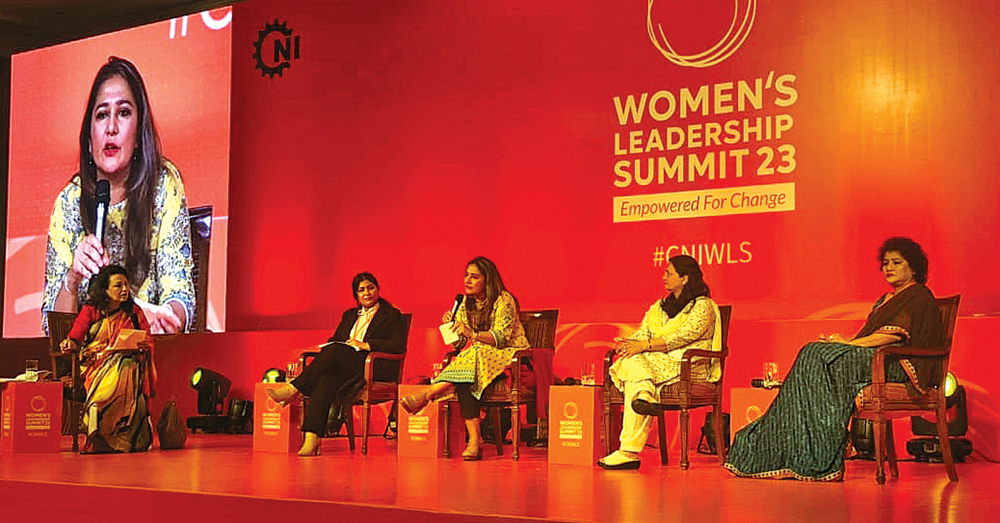 Moderator:
Bandana Rana
Panellists:
Mamta Siwakoti, Advocate; Nandani Lahe, Tourism Expert; Reshu Aryal, Educator; and Shabnam Shiwakoti, Joint Secretary at the Ministry of Agriculture and Livestock Development.