Jimmy Lama
Co-founder and Executive Director, HELP
A local NGO that has been working to improve rural schools in Nepal since 2009, Jimmy Lama, the Co-founder and Executive Director of
Helambu Education and Livelihood Partnership (HELP)
, had rebuilt 13 schools destroyed by the earthquake in 2015 in his native village in Helambu. This strengthened his commitment to working towards ending education inequity and access, and perhaps the trajectory of his career. HELP actively caters to improving education in government schools. It now runs the Saathi Teachers Programme which works with local governments to place young and passionate teachers at the primary level to teach Maths and English. Lama says, "Another exciting programme HELP hosts is the Bharosa Scholarship Programme that is supporting the education of children who lost their parent or guardian to Covid and would have been forced to terminate their education due to lack of finance." Jimmy Lama also has specific interests in fostering leadership in the country and takes a keen interest in the political space. Lama spoke to
Business 360
recently about his thoughts on leadership and the challenges and future of education in Nepal. Excerpts:
What's your definition of a leader?
A person guided by a meaningful vision, determined and committed to translating them into action, someone who lives with values of conscience and sound judgement, admits to weakness but is uncompromising on the higher goals set, someone who is also accommodating and adaptive to change, and above all, someone who bears the highest standard of personal integrity and moral character.
Is leadership in-born or acquired?
I do not believe in the genetic transfer of leadership. Being the offspring of a leader can come with many advantages but not necessarily with the leadership skills and organisational acumen, which must be acquired through insight, understanding and experience. So, my view is that all leadership skills are acquired rather than innate. However, there can always be exceptions.
Who comes to your mind as 'an ideal leader'?
In general terms, anyone who is constantly applying their belief, skills and knowledge to improve the lives and conditions of others is an ideal leader in my definition. At a personal level, few people have come as my leaders whose values and commitment I would strive to live up to. First is my mother who never had a formal education but decided to compensate for the suffering and pain she had to go through by sending me to a school. Second is Anthony Lunch, the Founder of the Mondo Foundation who sadly died last year. He gave up his business to do charity work, mentored and supported me to develop an interest in international development. When we talk about leaders, automatically also come to mind the political figures. In this reference, Nepali Congress leader Gagan Thapa strikes me as a remarkable leader. For my generation, he was the one who instilled in me so much hope for bigger change, although it has not happened quickly enough bound by the internal party challenges he has to face. I have seen how he flexes out of his comfort zone when it matters and also breaks his own support base when it comes to protecting the institution he believes in. It takes a lot of clarity of mind and willpower to keep that mindset and not be swayed by the winds and waves. So, for me, people having attributes of being able to rise up to the occasion, focus on their central mission despite chaotic and challenging times without considering gains and loss are ideal leaders.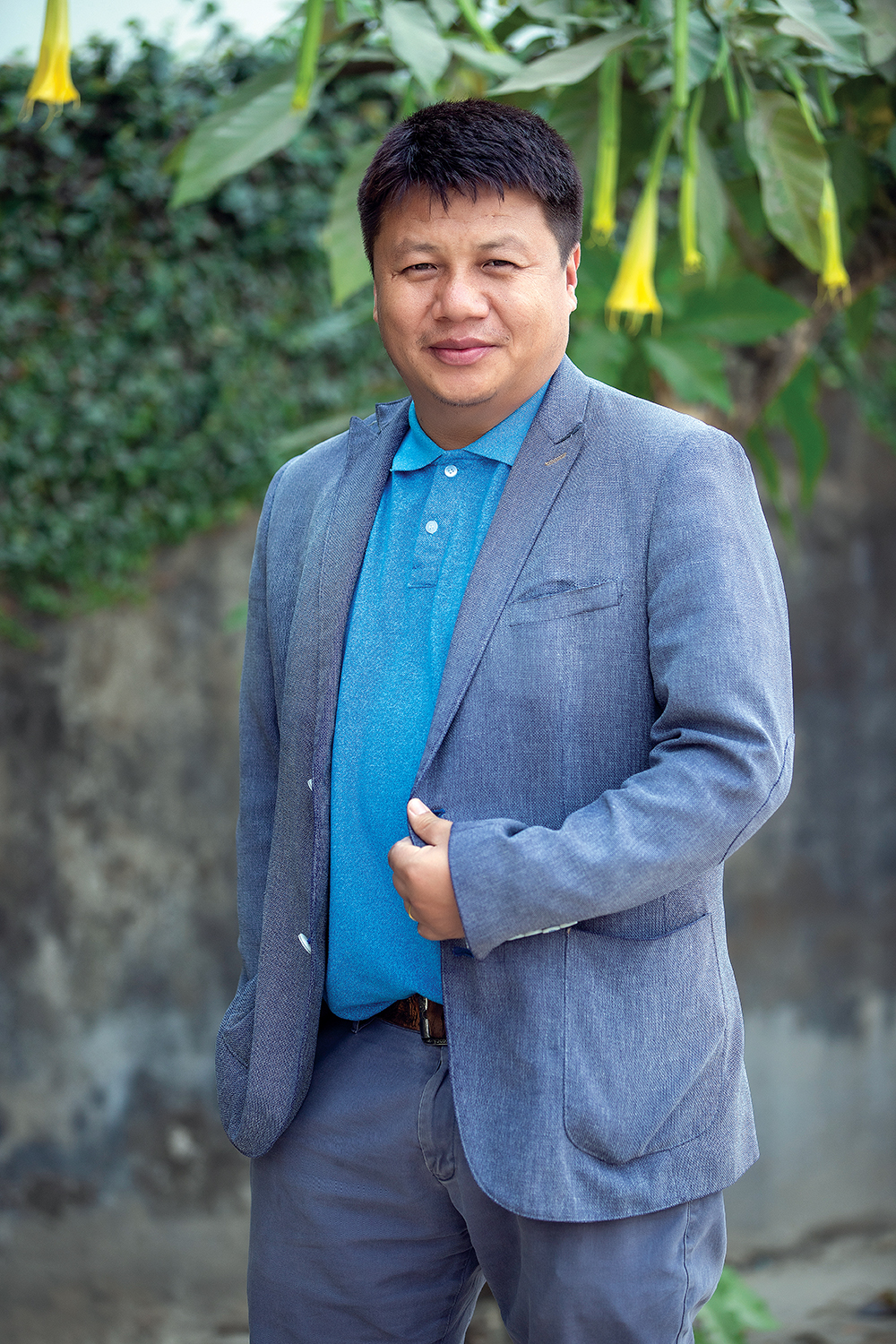 Could you share with us any incident that tested your leadership ability?
If we were to call ourselves a leader or have a leadership position, our best is tested during times of adversity and uncertain challenges. Over the past 12 years of my work, what drove me was my ability to align with the crisis of the present times and visualise the next big challenge and goals. I co-founded HELP with a simple idea to open up and connect with facilities and educational opportunities that were missing for some of the rural community schools that were off the beaten track. For the first five years, I enjoyed every single moment of doing it as if it were the most important work in the world. Then came the 2015 earthquakes in which all those schools and facilities we had built together with the local communities had fallen down. People were in despair and the community members were quickly losing hope. It became spiritually and emotionally important for me to reignite the hope. I could have just called an end to it. But it did not feel right not to stand together with the people we had known for so long at the most challenging times. So, I took the initiative to bring together at least 15 villages and make a commitment that we will work together to rebuild the local schools located in their communities. We then went through a process and signed MoU with the then Department of Education without a firm funding source. I just knew that it was important to do it and believed that we would be able to do it. Not realising what I had signed up for, it took me at least five years to fulfil those promises. We could have withdrawn from the commitment in the face of multiple complications and a challenging and bureaucratic process. But I would ask myself: If I can't do this, what else can I commit to? And, if not now, when will I ever be able to stand again with these communities? Thanks to all the friends and supporters who have believed in HELP and me to undertake those massive commitments.
How important is it to have a good team to work with?
As important as winning a game in an exhilarating soccer or cricket match. You can have a good defender but without a striker in good form, it will be a good game but may not bear the expected result. I guess it applies to any sphere of work. In my work, a good team are those who are committed to getting the job done and not just having a job to do. We have done best when people are multi-tasking which not only reduces costs but also enhances challenges for one's growth.
When should a leader hand over the leadership position?
It is quite simple. When you feel you cannot lead the work you are doing or when those you are working with feel you cannot do it. Thus, it is best to pass on the leadership to others who can perform better in either carrying forward the work or having the ability to adapt to the changing needs without losing the original vision. When such time comes, I would transfer the responsibility of the work to someone as soon as I realise I am not in the best form under any kind of circumstances to deliver the work.
How have your leadership qualities contributed to your career?
My leadership undertaking starts with a firm belief in myself and maintaining a learning attitude. No leader ever would know how to lead perfectly because leadership is not about knowing everything in advance but being prepared to learn and adapt to what is unknown. The will and the courage to get on a task with the utmost belief that something good will come out of it and being excited by the end result have been my biggest drives. Call it leadership qualities or the attributes naturally wired in me, but such drive, deep belief and determination have added strength and joy to my career.
What do you consider your most significant accomplishment as a leader?
The joy of taking the first step and knowing I would take many steps following it. In everything I have done, it has been less about what we did and more about how we did the first thing that would then lead us to do more things. Without it, I would not have been able to commit in the first place to restoring and rebuilding hundreds of classrooms that were destroyed by the earthquake and then quickly after developing the Saathi Teachers Programme we do now.
How can a leader prepare for the unknown?
The best preparation for a leader to handle any unknown situation is never to lose or run away from the original idea or belief that got you doing something in the first place. I co-founded HELP as an organisation, to become a bridge between the resources we could bring in and to address the needs of the communities we would serve. Everything we did came with joy despite some hardships, uncertainties and incoherency. When we built the first school in Helambu, we did not know that years later that school would not remain because an earthquake would come and destroy it completely. And, when we saw all those schools or infrastructures that we had built together with the communities collapse before our eyes, in spite of the despair and devastation, there was an automatic urge to accept the unforeseen challenge to rebuild because collectively we knew that we needed to act together and we believed we could do it together. Hence, we were able to ultimately build 13 schools in Sindhupalchowk which took over five years and required us to raise well over 20 crores of Nepali rupees.
READ ALSO: