Turkish Airlines adds Sicily's capital Palermo to its flight network
Turkish Airlines, which flies to more countries than any other airline in the world,
has expanded its flight network to include Palermo, the capital of the island of Sicily in southern Italy, increasing its number of destinations in the country to nine. The airline will operate the Palermo flights on Mondays, Wednesdays, Fridays, and Sundays, making a total of four reciprocal flights per week, following its routes to Rome, Milan, Venice, Naples, Bergamo, Bologna, Catania, and Bari in Italy. On the new destination, Turkish Airlines CEO Bilal Ekşi stated, "We are glad to add Palermo to our extensive flight network as our 344
th
worldwide and 9
th
Italian destination. As we strengthen our bonds with Italy with the new route, our guests from Palermo will be able to enjoy the unparalleled flight network of our flag carrier on their travels while our guests from all around the world will have the chance to experience Palermo's wonders with Turkish Airlines privilege."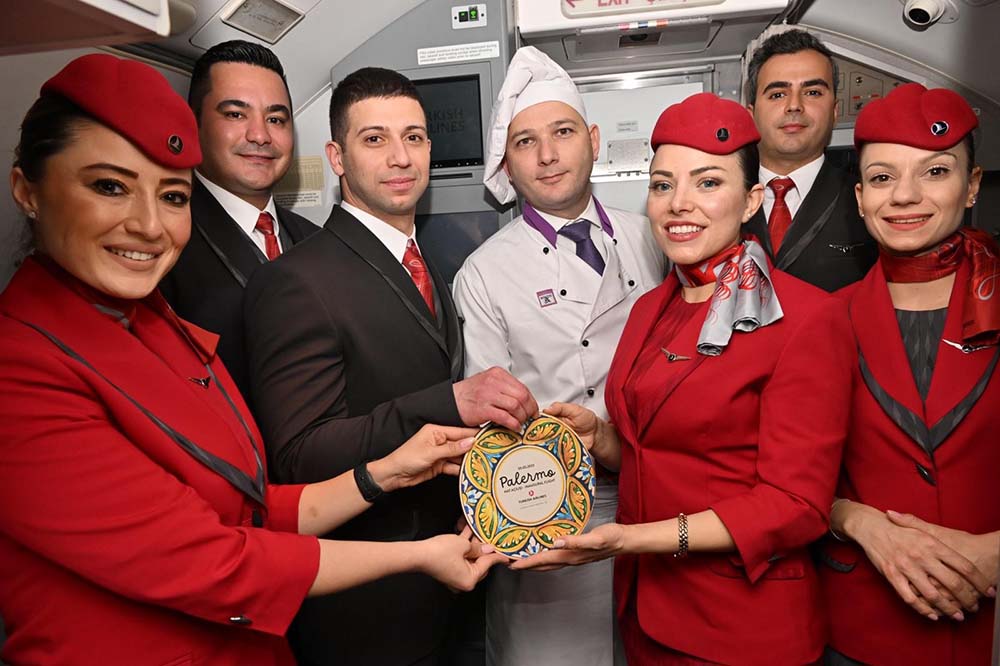 The planned flights to Palermo will be operated with Boeing 737-800 type aircraft from Istanbul Airport to Punta Raisi Airport. Turkish Airlines offers passengers the opportunity to travel at special launch prices starting from $259, including all taxes for round-trip flights. Founded by Phoenician traders and boasting a cosmopolitan culture, the city of Palermo derives its name from the Ancient Greek word 'panormus', which means 'all harbour'." With agriculture and trade as its primary sources of income, Palermo attracts many domestic and foreign tourists every year.
FLIGHT NO.

START

END

DAYS

DEPARTURE

ARRIVAL

TK 1373
05/05/2023
27/10/2023
Monday-Friday
İSTANBUL
03:45
06:20
PALERMO
TK 1374
05/05/2023
27/10/2023
Monday-Friday
PALERMO
07:20
09:55
İSTANBUL
TK 1375
07/05/2023
25/10/2023
Wednesday-Sunday
İSTANBUL
13:45
16:20
PALERMO
TK 1376
07/05/2023
25/10/2023
Wednesday-Sunday
PALERMO
17:20
19:55
İSTANBUL
*All times are in Local Mean Time (LMT).
*Tickets for round-trip flights from Istanbul to Palermo (including all taxes) cost $259, while round-trip flights from Palermo to Istanbul cost Euros 235.
Established in 1933 with a fleet of five aircraft, Star Alliance member Turkish Airlines has a fleet of 414 (passenger and cargo) aircraft flying to 344 worldwide destinations — 291 international and 53 domestic — in 129 countries. 
The Star Alliance network was established in 1997 as the first truly global airline alliance, based on a customer value proposition of global reach, worldwide recognition and seamless service. Since its inception, it has offered the largest and most comprehensive airline network, with a focus on improving customer experience across the Alliance journey. The member airlines are Aegean Airlines, Air Canada, Air China, Air India, Air New Zealand, ANA, Asiana Airlines, Austrian, Avianca, Brussels Airlines, Copa Airlines, Croatia Airlines, EGYPTAIR, Ethiopian Airlines, EVA Air, LOT Polish Airlines, Lufthansa, Scandinavian Airlines, Shenzhen Airlines, Singapore Airlines, South African Airways, SWISS, TAP Air Portugal, THAI, Turkish Airlines, and United. Overall, the Star Alliance network currently offers more than 10,000 daily flights to almost 1,200 airports in 184 countries. Further connecting flights are offered by Star Alliance Connecting Partners Juneyao Airlines and THAI Smile Airways.
READ ALSO: