Mani R Lamichhane
Director – Research, Planning and Monitoring, Nepal Tourism Board
National Project Coordinator, Sustainable Tourism for Livelihood Recovery Project (UNDP)
Mani R Lamichhane is currently Director of Research, Planning and Monitoring at Nepal Tourism Board and the National Project Coordinator of Sustainable Tourism for Livelihood Recovery Project (UNDP). He began his career in tourism in 1999, and joined the Nepal Tourism Board in 2008. In this time at NTB, Lamichhane has initiated several successful programmes among which the World Tourism Day Village stands out. "We launched this programme in 2013 to promote our villages as tourist destinations and to help visitors experience the delights of rural Nepal," he shares, adding that it has played a major role in identifying the tourism potential of many areas that had long remained untapped even as it created economic opportunities and livelihoods for the communities there. In 2018, Lamichhane was positioned in Pokhara and an initiative that he recalls from his time there is to ensure that the lake city has street signs for easy navigation of tourists. The examples are many across Lamichhane's career – some simple and some complex but what really stands out is his love for tourism promotion of the country. In this edition of
Business 360
, we spoke to Lamichhane about his thoughts on leadership and some of the challenges of tourism in Nepal. Excerpts:
How do you define a leader?
Leaders are changemakers. They must always have a sense of ownership in whatever they do and also accept everyone around them as their own and provide a sense of security. For me the true definition of a leader is a person who is willing to bring change and who can see opportunity even when there are risks. A leader is somebody who can make a difference in society regardless of the challenges.
Is leadership 'in-born' or 'acquired'?
I would say leadership qualities are acquired. A person's growth in personal and professional life is determined by environmental factors, especially the social environment where we are groomed and put through the experiences of life. The environment shapes one's mindset, personality and how they perceive life. There could be cases where a few qualities are inborn but the qualities have to be groomed and enhanced over time. Thus, the qualities are acquired over time as per the situation, experiences and exposure.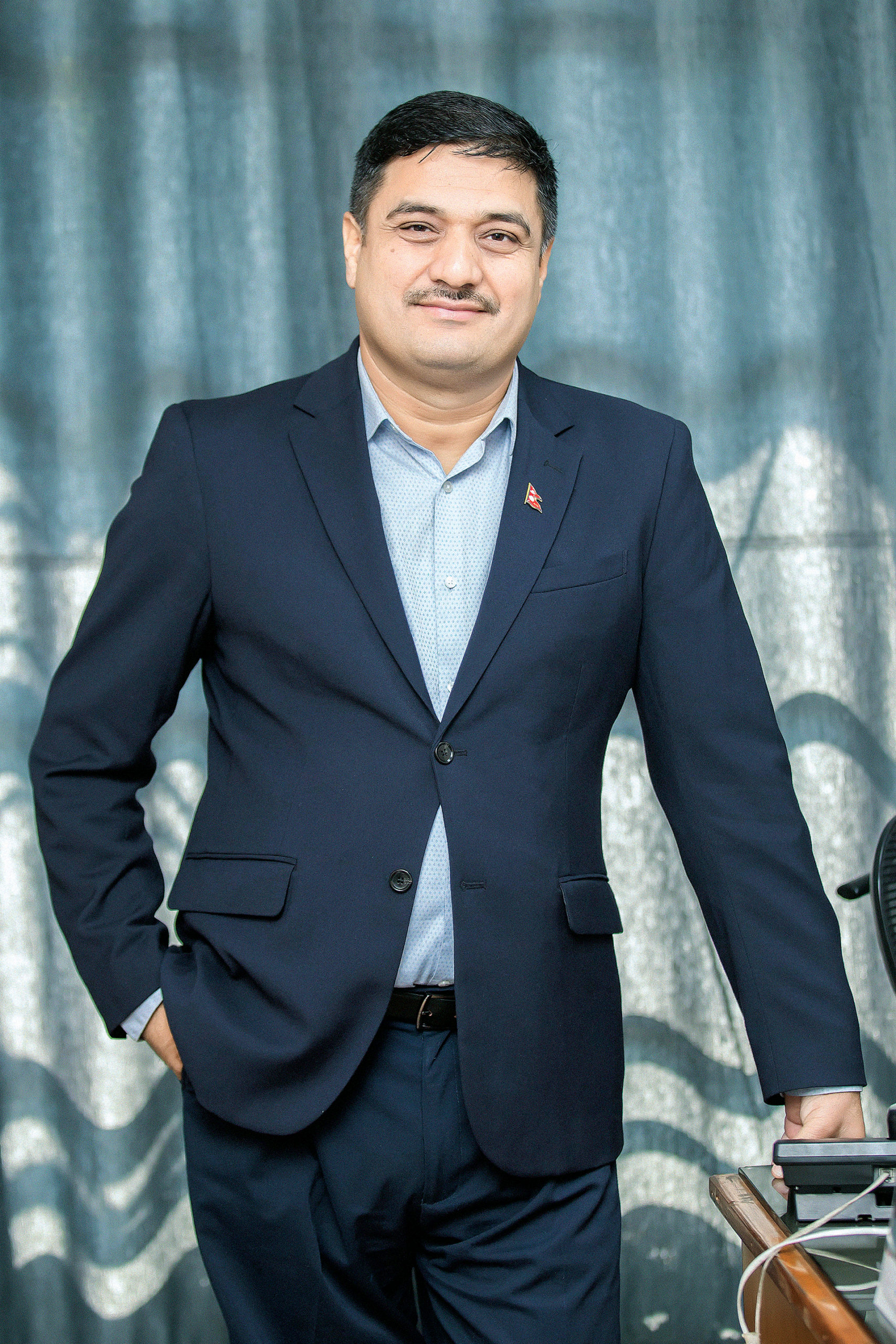 Who comes to your mind as 'an ideal leader'?
I enjoy reading biographies and while reading about Barack Obama, I was inspired by his dedication towards his responsibilities. Previously, I used to always be occupied with work but after reading his biography I learnt how to segregate time for work, family and my personal interests. It is amazing how Obama, despite having to look after so many national and international affairs during his tenure, was able to take time out for his family even as much as to take his dogs out for walks. And here I was, an ordinary individual, who didn't have time for other things. After reading the biography I am better at time management and also have a positive outlook on life.
How essential is a team?
When you are part of the team and enjoy your work, you don't have to actually work is a philosophy that I stand by. I am a firm believer that when you enjoy your work, people around you will also enjoy working with you. I have an open-door policy at NTB. If anyone has any kind of problem or query, they are free to come and talk to me. When you are in a senior position, communication is even more vital because, at the end of the day, it is the people around you that matter. It is your team that assists you in your work. A person must always be a team member before being a team leader.
How can a leader prepare for the unknown?
We can never be prepared for the unknown but the confidence to tackle a difficult situation is the most valuable quality a leader can possess. Hence, the experience and ability to tackle a situation with sincerity will enable a person to be prepared for any situation thrown their way.
How did the Covid pandemic affect your line of work?
Tourism is a sector which is impacted greatly by calamities and Covid 19 was one which caused many employees who work in the sector to lose their jobs. Sherpas, porters, tour guides who work for only a few months during the peak season were left jobless as the start of the pandemic coincided with the start of the tourism season. To address the problem, we partnered with UNDP and brought immediate livelihood support programme which focused on short-term employment. A budget was set to cater to the most vulnerable and directly-affected people. The programme had the aim to cater to 250 people by providing them small scale jobs so that they could sustain themselves during the period. The challenge was immense as we wanted to help as many people as we could and even though it was a hard call, Nepal Tourism Board was successful in running the programme. The success of the programme encouraged us to expand it to a greater scale and hence, Sustainable Tourism for Livelihood Recovery Project (STLRP) was started. Through this programme, we initially aimed to provide employment to 1,600 people but we were able to provide employment to around 5,700 individuals. We provided training and life-sustaining skills to encourage them to be a part of a sustainable outcome. One of the achievements was that we bagged the gold medal from PATA which recognises the achievements of organisations and individuals and encourages the industry to create new responsible and sustainable initiatives as we look towards recovery from the pandemic.
In what ways are you promoting tourism in Nepal?
As the world has transformed into digital, we are extremely active on social media promoting Nepal. We also try to attend as many webinars and conferences as possible. We try to collaborate with embassies as well in order to build good relationships and organise programmes to promote Nepal in their respective countries. Also, we have started to invite vloggers and bloggers to visit Nepal. This strategy is the best we could ask for. In recent times, there are many YouTubers who are visiting Nepal and promoting the country. At times, we sponsor them to explore the culture, history and landscape of Nepal. Additionally, we invite tour operators and travel companies. Currently, we are promoting cross-border tourism because having an open border with India, thousands of visitors come through it. We want to showcase that Nepal is not only about Kathmandu, Pokhara and Lumbini but has a lot more to offer. Our aim is for tourists to travel to different parts of the country as Nepal has a lot to offer.
READ ALSO: