The Nepal Stock Exchange (NEPSE) index surged considerably by 411.11 points (+16.31%) to close at 2931.34 points during the review period of December 24, 2021 to January 20, 2022. Carrying on from the previous review period's dwindling investor confidence, the review period opened on a feeble note to reach as low as 2518.99 points on December 28, 2021. However, the index continued to strengthen thereafter through modest gains, and ended the review period on a firmly higher gain. Nevertheless, as the second quarter ended, the existing liquidity crisis in the banking system remains a key hurdle amidst minimal capital expenditure by the government. The overall volume during the review period increased by a notable 29.62% and reached Rs 112.27 billion. During the review period, contrary to the previous review period, all sub-indices landed in the green zone. Life Insurance sub-index (+25.079%) was the biggest winner as share value of Life Insurance Company (+Rs 405), Nepal Life Insurance (+Rs 350) and National Life Insurance (+Rs 297) increased substantially. Hydropower sub-index (+23.45%) was second in line with rise in the share value of Radhi Hydropower (+Rs 189.4), Ngadi Group Power (+Rs 109) and Api Power (+Rs 105.1). Finance sub-index (+21.97%) also witnessed an increase in the share prices of ICFC Finance (+Rs 173.2), Pokhara Finance (+Rs 130) and Goodwill Finance (+Rs 119). Development Bank sub-index (+20.83%) followed suit with rise in the share prices of Kamana Sewa Development Bank (+Rs 110.3), Lumbini Development Bank (+Rs 109) and Shangrila Development Bank (+Rs 106). Non-life insurance sub-index (+20.34%) also progressed as share value of Rastriya Beema Company (+Rs 3,805.9), IME General Insurance (+Rs 218) and Sagarmatha Insurance (+Rs 211) went up. Similarly, Manufacturing and Processing (+17.37%) witnessed a surge in the share prices of Bottlers Nepal (+Rs 1,100) and Shivam Cements (+Rs 254). Microfinance sub-index (+15.67%) also substantially inflated with rise in the share value of Asha Microfinance (+Rs 330), Samudayik Microfinance (+Rs 290.9) and Global IME Microfinance (+Rs 279). Others sub-index (+12.68%) increased as share value of Citizen Investment Trust (+Rs 474) and Nepal Telecom (+Rs 122) expanded. Commercial bank sub-index (+11.26%) witnessed an expansion in the share prices of NIC Asia Bank (+Rs 157), Standard Chartered Bank (+Rs 76.9) and Everest Bank (+Rs 75). Likewise, Hotels and Tourism sub-index (+8.75%) increased marginally with rise in share value of Oriental Hotels (+Rs 40), Soaltee Hotel (+Rs 22.2) and Taragaon Regency (+Rs 18).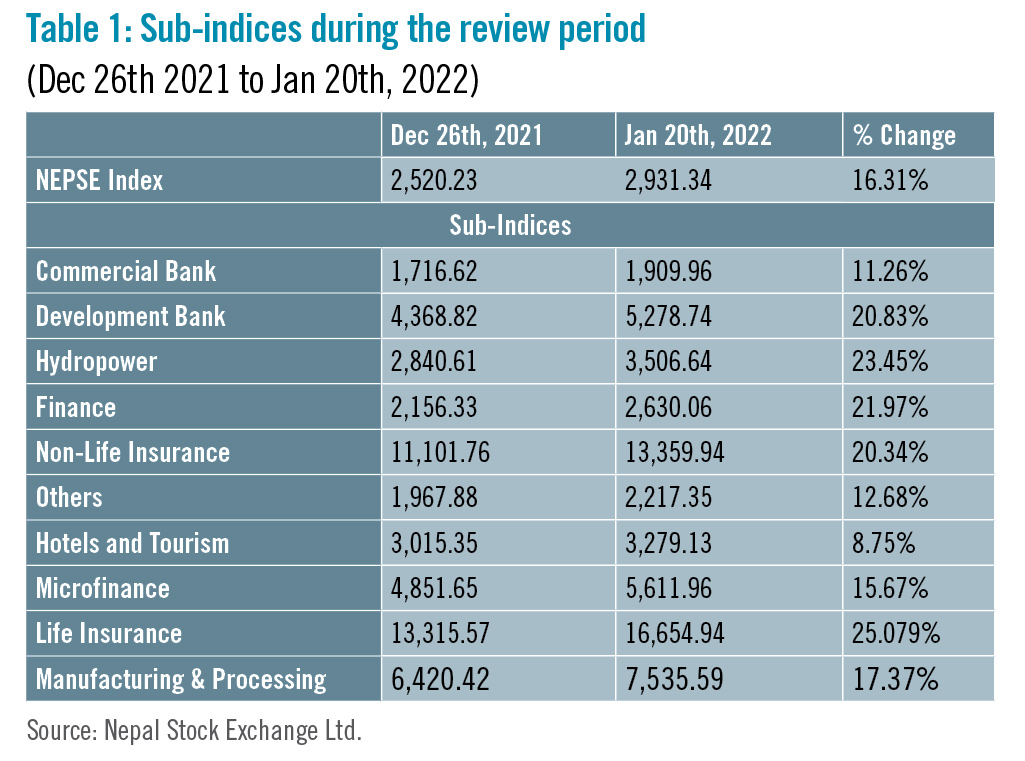 ---
News and Highlights
On the public issue front, SEBON has added the Initial Public Offerings (IPOs) of three hydropower companies to its pipeline. It includes Asian Hydropower worth Rs 118 million, Rasuwagadhi Hydropower worth Rs 684.2 million and People's Power worth Rs 309.9 million. NMB Capital, Siddhartha Capital and Prabhu Capital have been appointed as the issue managers for the three hydropower companies, respectively. Likewise, SEBON has approved the rights shares of Shikhar Insurance (10:3 ratio) worth Rs 527.55 million and IME General Insurance (10:4 ratio) worth Rs 463.03 million. NIBL Ace Capital and Global IME Capital have been appointed as the issue managers respectively.
---
Outlook
Investors have remained wary as the banking system's liquidity shortage remains a key bottleneck, along with rising interest rates. Despite the current market reversal, the market remains speculative with some expected corrections given the spike has not been backed up by significant market activity. Despite this, certain encouraging developments such as local elections scheduled for Baisakh of the upcoming Nepali fiscal year, have sparked some market confidence.
This is an analysis from beed Management Pvt Ltd. No expressed or implied warrant is made for usefulness or completeness of this information and no liability will be accepted for consequences of actions taken on the basis of this analysis.
READ ALSO: